MDF File Recovery Tool » Recover Data from Damaged MDF File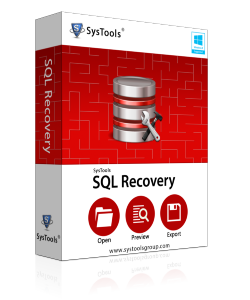 How to Recover MDF File Contents after SQL Server Corruption? After you encounter any such errors, it means that your SQL database has got corrupted and you need to look for SQL MDF file recovery tool immediately to restart normal functioning of various SQL dependant operations in your organization. Normally in such error situations, you might fail to access your SQL Server MDF files. However, it is possible to recover SQL master database and to recover data from MDF file using an efficient SQL MDF database recovery tool. One such powerful yet convenient to use MDF file recovery tool is SysTools SQL Recovery software that performs efficient MDF recovery.
Another benefit of associating with SysTools is that you can avail the facility of the FREE Demo Version of our products including SQL Recovery software which will gives you an idea about the product performance before its purchase.
With the help of this Demo Version, you can repair MDF files, see the MDF file recovery process but you cannot save the recovered contents to your system. For saving the files, you need the Full Version.
SQL MDF Data Recovery Software - Recover SQL Server Contents Seamlessly
Using SysTools SQL Recovery tool, you can recover MDF file items from corrupt SQL database in exactly original shape as present initially.
Errors You Might Be Encountering... After SQL corruption, you might be coming across some error messages like:
Table Corrupt
File: <SpcAlloc.cpp>, line=466 Failed Assertion = '0'
The process could not execute 'sp_replcmds' on server
Internal error. buffer provided to read column value is too small
Memory or buffer error, space provided to read column is too small
Conflict occurred in database'db_name', table 'table_name', column 'column_name'
Table error: Object ID 0, index ID 0, and page ID (1:105). The PageId in the page header = (0:0)
Features Floor – MDF Recovery Tool
SysTools SQL Recovery software has the following significant features:
Using this MDF file recovery tool, you can recover corrupted tables, databases, triggers, views, stored procedures easily.
You can recover SQL database constrains and indexes.
You can also recover database rules, checks, default values, objects and user defined data types.
You can repair even large sized databases of SQL Server quickly.
You can recover damaged primary keys, unique keys & foreign keys.
Software supports SQL Server 2000, 2005 and 2008.
SysTools SQL Recovery software runs with Windows 7 also.
How to Recover Data from MDF File Seamlessly? Many users think that using any database recovery software would alter/delete/damage their data and it is impossible to recover data in its original form. SysTools software products ensure seamless recovery. Our SQL Recovery software repairs corrupt MDF files and recovers original data initially present with no alteration/damage/deletion of data information. Our software also recovers data from MDF file even if MS SQL Server is in "suspect" mode.