Open Office Writer Recovery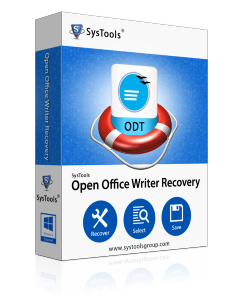 Why Corruption Occurs in Open Office Data? Open Office Writer can sometimes lead to corruption which further can cause serious harm to data stored in them. However, to overcome corruption is not a difficult task till SysTools Open Office Writer Recovery software is available. Corruption can be possible from any of the below mentioned reasons:
Virus attacks
Trojan infections
Format conversion or media errors
Abrupt System Shutdown
Corruption of software
Malfunctioning of hardware
By mistake deletion
Alliance of .odt files with some other authoring software
Why to rely on SysTools?
You can use SysTools Open Office Writer Recovery software to repair damage Open Office file. Have a look on what our software can do for you?
Using this repair ODT document solution, you can easily read corrupt Writer (.odt) files and can recover ODT files along with all element like text, images, image objects, hyperlinks, Unicode characters, tables, text formatting, page headers and footers, page orientations and every other style and formatting included in the Writer document (.odt) files.
Using this software you can repair ODT document proficiently which is corrupt and unusable
If you are unable to read damage ODT database, then after recovery process you can easily and quickly access healthy ODT database.
You can save ODT file after corruption and can save your corrupt .ODT files into a new .ODT or .RTF files which has opened with Microsoft Word.
This software aims at performing high and advanced technology and at the same time ease giving.