Restore Exchange Mailbox Windows Backup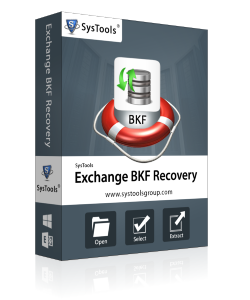 Unable to recover MS Exchange server BKF File?
We'll make it possible. Our technicians are well versed with the binary file format of BKF file. Restore Exchange Mailbox from corrupt MS Backup File using our Guaranteed Exchange Server Recovery Services.
SysTools BKF Repair Tool does not support recovery of Exchange Server Mailbox Stores from corrupt BKF File. We provide a specialized service for recovering Microsoft Exchange mailbox and folder from backup file.
Steps to Restore Exchange Backup manually explain here
At first, start the information store, go to My Computer after that go to Manage > Services and Applications services> Click the right and start the Exchange Information Store selecting "Start"
Go to Storage Group and right click on the Mailbox store and select "Dismount Store" than click its properties.
Go to database tab and check This database can be overwritten by a restore".
If Backup Wizard start the choose Advanced. Press the "Restore Wizard" than Go to Next
Choose the backup file by browse button
After that select the mailbox store you have to restore and Log file than go to next
Restore screen, if BKF file is not shown. Locate the BKF file with the help of Browse Button then press OK
After completing the process go to Exchange System Manager and mount the Mailbox store.
We provide specialized Exchange Server Recovery Services to recover Mailbox Store from BKF file created by NTbackup utility. Try using SysTools Exchange Server Recovery Services to restore Exchange Backup File.